Minnesota became the first and is the only state high school athletic association in America to recognize and support a trapshooting tournament.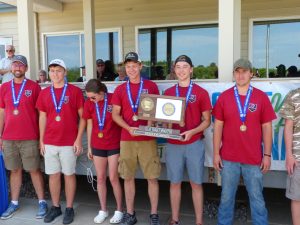 The Minnesota State High School League (MSHSL) is a voluntary, nonprofit association of public and private schools with a history of service to Minnesota's high school youth since 1916. The Minnesota State High School League provides educational opportunities for students through interscholastic athletics and fine arts programs, and provides leadership and support for member schools.
One of the Minnesota State High School League's goals in 2012 was to explore the potential assimilation of education-based competitions in MSHSL initiatives that will enhance academic opportunities for students and in MSHSL member school communities. With the ongoing success of the clay target league, the MSHSL recognized that the clay target league was a viable alliance to help achieve their goal. On December 6, 2012 the MSHSL board of directors approved a presenting partnership with the clay target league for the 2014 State Tournament that was held on June 13, 2014.
The MSHSL continues to recognize and support clay target league trap shooting student athletes and their teams as high school sport champions like all other high school sports in Minnesota.